Combining the depth of an epic Fantasy RPG with FPS-style controls, Dungeon Lords brings the Action RPG to a whole new level. This 3D game offers a deep storyline shrouded in mystery and betrayal and features many playable races with myriad character classes. Players journey through an enchanted land of ancient castles, dark forests, and dungeon lairs, braving an army of diabolical foes to uncover secrets lying hidden within the depths of an evolving storyline. It's not just about the battles though, as magic spells and hundreds of powerful weapons and artifacts play a huge role in the game.
The game features an abundance of personal missions and quests along with numerous characters to interact with. A variety of extensive skills and special abilities are available to customize the hero from a variety of races and multiple class specializations. The simple and intuitive design will suit RPG and action fans alike and supports cooperative multiplayer for up to eight players.
Designed, written and developed by award-winning computer game author, D.W. Bradley (Wizards & Warriors and three of the legendary Wizardry titles) and Heuristic Park, Inc., Dungeon Lords will ship in fall 2004, and is likely to have an 'M' for Mature ESRB Rating.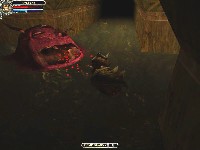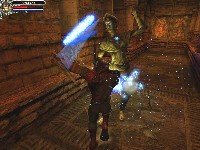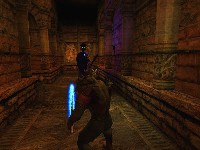 Dungeon Lords Features:
Real time player control of all combat tactics, including a vast selection of weaponry, magic spells and powerful artifacts
Detailed character hero development that includes a host of personal attributes, skills, and special abilities
4 completely different schools of magic
Multiple Class Specializations- each with unique abilities and attributes
Extensive Inventory that features common, rare, and unique items
Designed, written and developed by award-winning computer game author, D.W.Bradley
Multiplayer:
Full support for Multi-Player group game sessions for up to 8 players.
Multiplayer adjusts to the number of players. The more players, the more difficult the monsters they encounter
More articles about Dungeon Lords