Platform(s): PlayStation 2, Xbox
Genre: Action
Publisher: Take 2/Rockstar
Developer: Rockstar

PC gamer, WorthPlaying EIC, globe-trotting couch potato, patriot, '80s headbanger, movie watcher, music lover, foodie and man in black -- squirrel!
'The Warriors' (PS2/Xbox) - 16 New Screens
by Rainier on Sept. 24, 2005 @ 1:19 a.m. PDT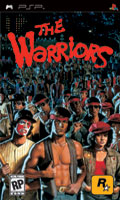 The Warriors is based on the 1979 Paramount Pictures cult classic movie. Developed by Rockstar Toronto, The Warriors expands the stylized cinematic journey of the film into a gritty interactive experience set in 1970s.
Page 1 of 1
Page 1 of 1