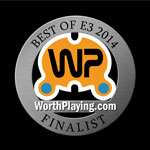 WorthPlaying's Best of E3 2014 - Finalists
(in alphabetical order)
Arena of Fate (PS4/XOne/PC)
Why do I feel so strongly about Arena of Fate? It could be because it's a genuinely joyful romp through a genre that, for me, is otherwise boring. It also could be that the game is simple to pick up but still allows for a degree of mastery and technical gameplay. Ultimately, it is probably due to the fact that matches are only 20 minutes long, and I don't have to write off hours of my life to play it.
Arena of Fate represents a distillation of some of the most fun parts of the MOBA genre, refined into a game that clearly wants to do its own thing. It's not a title that requires studious research into item orders and talent trees. It strips away a level of complexity found in many other MOBAs, and it feels stronger for it. - Tony "OUberLord" Mitera
Batman: Arkham Knight (PS4/XOne/PC)
The Arkham franchise redefined the concept of licensed games, bringing what was normally a genre of low-effort games into the limelight with one of the breakout stars of the previous console generation. Batman: Arkham Knight has a lot to live up to, but our brief time with it left the impression that the game can surpass all of those expectations. The combat and stealth mechanics have been streamlined and improved, the graphics have seen a remarkable upgrade, and the addition of the Batmobile adds an awesome new angle to the tried-and-true gameplay. Arkham Knight looks to be bigger and better than the last Arkham games in every way, and with a franchise that well regarded, that's saying something. - Chris "Atom" DeAngelus
The Evil Within (PS4/PS3/XOne/X360/PC)
Because I gotta be me.
Survival horror is a big part of why I got into modern video games in the first place (some idiot told me I'd probably like Resident Evil 2, little knowing what he would unleash). Somebody pledges to bring it back to its hardcore roots about once every 20 minutes, but The Evil Within actually feels like it'll do it, rather than making a linear adventure game with a bunch of monster closets and cat scares.
It's not making concessions to playability to draw in a more mainstream audience or part of a very deliberate multimedia blitz. It's simply intended to creep you the hell out by any means necessary. Sure, there are a few ways in which it's admitting that time has passed and the genre has evolved, like how you collect "green goo" to upgrade your protagonist's various stats, but this feels like a throwback in all the best ways. - Thomas Wilde
Harvest Moon: The Lost Valley (3DS)
Harvest Moon: The Lost Valley is proof that sometimes, less is more. More recent titles of the franchise have become more and more complicated and try to give players busy work, but The Lost Valley emphasizes quality over quantity. Natsume has streamlined the basic chores and embellished the things that make the series fun. We're expecting great things from The Lost Valley and looking forward to it this fall. - Rhi "StormyDawn" Hale
The Witcher 3: Wild Hunt (PS4/PS3/XOne/X360/PC)
Last year, I remarked that games like the Dragon Age series are going to have a real fight on their hands once The Witcher 3: Wild Hunt is released. This year, for the lot of them, the situation has been updated to Defcon Screwed. The Witcher 3 offers some of the best balance between realistic and fanciful elements. Despite there being gryphons flying around and tree spirits murdering things, the game has a soul that feels remarkably grounded.
It doesn't hurt that The Witcher 3 is absolutely gorgeous, since the game's level of polish has been building for years. The title invokes an inquisitive feeling of unbridled wonder and immersion that modern RPGs seem to have forgotten. The expansive world seems to be waiting for you to explore and delve into its secrets. I'm uncertain that any games can come close to what The Witcher 3 aims to achieve in any category. - Tony "OUberLord" Mitera