As WP's managing editor, I edit review and preview articles, attempt to keep up with the frantic pace of Rainier's news posts, and keep our reviewers on deadline, which is akin to herding cats. When I have a moment to myself and don't have my nose in a book, I like to play action/RPG, adventure and platforming games.
WorthPlaying's Best of E3 2016 - Nominees
by Judy on June 17, 2016 @ 10:00 a.m. PDT
After much deliberation, WorthPlaying staffers have nominated 17 games for "Best of E3 2016" awards. Read on to find out which games caught our eye, and check back on Monday to read about the five coveted finalists!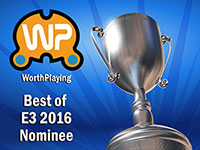 WorthPlaying's Best of E3 2016 - Nominees
(in alphabetical order for some semblance of sanity)