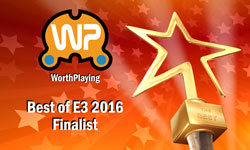 WorthPlaying's Best of E3 2016 - Finalists
(in alphabetical order)
Deus Ex: Mankind Divided (PS4/XOne/PC)
While I'm not a terribly big fan of infiltration games like Metal Gear Solid and Splinter Cell, Deus Ex: Mankind Divided sets itself apart by giving you more freedom to go the stealth route or go in with guns blazing. You continue your role as Adam Jensen, and the game is set in Prague, two years after the end of Human Revolution.
Mankind Divided is enjoyable because it switches up pulse-pounding action with slower moments to give you some much-deserved rest from the intensity. I'm a PC gamer, so I typically eye console demo stations with dread. However, after 20 minutes, I had a death grip on the controller, my palms were sweaty from all the tension, and I couldn't wait to find out what happens beyond the end of the demo. It's a good indication that I'd been completely immersed in the action and totally sold on the game. Is it August yet? - Rainier Van Autrijve
Friday the 13th (PS4/XOne/PC)
Horror games often struggle with the concept of vulnerability as a game mechanic, core or otherwise. The new Friday the 13th game is not unique in its portrayal of normal people trying to escape from being brutally murdered by some otherworldly force. However, it's rare to bear witness to a team that is really thinking through that idea in as many ways as possible. From the fear mechanic to Jason's abilities, the development team behind the new game is putting a lot of thought into frightening you until you can't think straight.
I'll be honest; I knew nothing of the new Friday the 13th game before I walked in to my appointment to check it out. The appointment wasn't a gigantic company staffed with tons of personnel, just with team founder Wes Keltner, who has clear heart for the project and a fantastic story. From a relatively tiny team that was hoping to make an homage, the team has turned its passion project into an official one with the backing of the license holder and the help of multiple key positions from the "Friday the 13th" movies. The founder's excitement was infectious, and I'm damn interested to see where the game goes from here. - Tony "OUberLord" Mitera
God of War (PS4)
It's not just the fact that the new game has pretty graphics, or that it's another entry into a popular franchise. The truly impressive aspect of the new God of War game is of the risks it takes in leaving so much of its old self behind. Kratos is older now and in a vastly different setting, with a son to look after against the looming threats of an untamed Scandinavia. In a time where one can easily get tired of developers adding a few new features and incrementing the number at the end of the title, it's refreshing that the developers behind the new God of War are so willing to reinvent.
That's not to say that there aren't other, humbler elements that stand out. Previously, Kratos was little more than a willing embodiment of rage and an engine poised for little more than abject violence. Now, there seems to be much more of a character present — one more fully realized thanks to the large-scale changes in his demeanor and in the small touches, like when he goes to comfort his son but recoils before doing so. There's still the trademark violence, and I'm sure that troll won't be the only sentient being that Kratos shatters, but it's very interesting to have that not be the only element that the new revision brings to the screen. - Tony "OUberLord" Mitera
Nioh (PS4)
Nioh from Koei Tecmo games has a lot in common with the popular Dark Souls series. You go through dangerous and dank dungeons, fight horrifying monsters, and collect resources to level up. You can summon friends to help you fight, you collect dropped items after death, and you have to be very careful to avoid death.
What sets Nioh apart is the emphasis on a very different kind of combat system. Nioh is designed by Team Ninja of Ninja Gaiden fame, and it shows. The combat is complex and violent, calling to mind both Dark Souls and samurai films. With rapid attacks, quick changing between stances, and a variety of weapon types and super moves, it's a more ostentatious game than the Dark Souls titles, but that works completely in its favor. For anyone hankering for something to fill the void left by the Souls series, Nioh may fit the bill. - Chris "Atom" DeAngelus
Sea of Thieves (XOne/PC)
Video games have dramatic stories, artistic masterpieces, and complex mechanical challenges that test the most hardcore of gamers. At their core, though, video games are about fun, and Sea of Thieves is fun. Every aspect of the game design seems to be focused on providing an engaging and exciting experience for players, from the most casual to the insanely hardcore. It's a game designed to be picked up and played, and that means we got to see it at its best during E3, even in its early state.
What we played on the showroom floor was fast-paced, exciting, and goofy — all at the same time. It's just as satisfying to score a critical hit on an enemy ship and watch it sink below the waves as it is to frantically attempt to patch a hole in your own ship. The ambitious ideas of Rare mean that this strong foundation is only the beginning. The title has a lot of potential for laugh-out-loud humor from the sheer ridiculousness of the situations. Whether it's picture-perfect synchronization between a talented pirate crew or getting drunk and ramming your ship into the rocks, you'll find something to do in Sea of Thieves. - Chris "Atom" DeAngelus