Testing player reflexes as they encounter swarms of enemy aircraft, Arcade Mode offers immediate and intense action in short, successive stages. Players assume the role of an ace pilot and take to the skies to shoot down the opposition in 16 fast-paced stages including landing and in-flight refueling segments. Players must gun down a specified number of enemies before the clock reaches zero in order to clear each stage. Additional time is awarded to players for each enemy shot down, with certain enemies awarding additional missiles and special weapons. If the required number of enemy planes are not shot down once the clock reaches zero or the player's plane is shot down, the game ends. Between each stage, which runs approximately four minutes, a results screen displays the player's total points earned, time remaining and rank.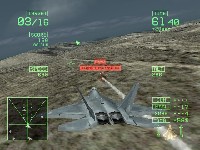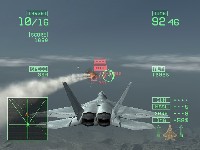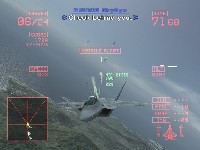 Arcade Mode gives players on-board access to an arsenal of weapons including missiles, special weapons and a machine gun loaded with unlimited ammunition. For added strategy, the various enemy aircraft assume different behavior patterns to challenge the player's aerial combat skills.

ACE COMBAT 5 joins the adrenaline rush of squadron command with intense dog fighting and real-life graphics to deliver the most power-packed experience to date in the renowned ACE COMBAT franchise. Featuring a detailed storyline with more than 30 missions and 50 licensed planes, players are consistently challenged with air-to-air combat, air-to-ground fighting, air-to-sea assaults, rescue, recon and more. With the addition of Wingman Command, players can issue mid-mission directives to three wingmen and carry out coordinated group attacks. Additionally, in-game radio communications add additional depth, strategy and realism to the game's dynamic battle sequences.

More articles about Ace Combat 5